Before we go anywhere else, I'd like the record to show that I stinking hate olives. Now that we're clear...we can continue.




This is as happy as Ava looked on Saturday. She was "pee-ohed" at me big time. It would seem that the idea of being temperate as mentioned in 1 Timothy 3 was being lost on me that day. Mom was at work and it was just us.




You see Ava has a thing for wielding unwieldy objects. One of her favorites is the broom. She seeks out our broom at least once daily and carries it around the house, knocking about clumsily. Nothing is safe when Ava has a broom in her hands. Inevitably, she'll turn around in a cartoon fashion, unaware of her broomstick radius, and smash into a picture on the wall...a glass on the counter...and so on and so fourth.




"Ava. Put that broom down before you break something."

"Ava! Put that broom down before you break something!"




I had the stove and buffet cabinet moved out so I could clean behind them. Sometimes you just get an itch to clean something and there's only one way to scratch it. As I vacuumed and scrubbed, I heard Ava in the kitchen with the broom that I had just put away...again. I had already told her twice to put it back, but research shows that 2 year old humans don't always listen when you want them to.




Just as I turned to plead my case with a 27 month girl she knocked something of insignificance off of the table with the broomstick. Out of my built-in superhero reactionary D.N.A. I jumped to save whatever was about to break. When I jumped, my foot caught the power cord of the vacuum which was very conveniently wrapped around one of these things: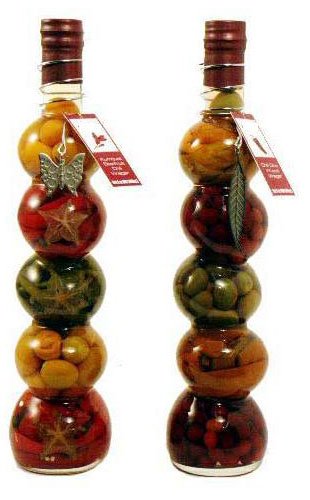 It was (as in past tense) filled with kalamata olives, anise (aka nasty black licorice flavor), and some really sour smelling vinegar. It crashed on the floor spilling out approximately 730 terrible little flavor bombs and about a gallon of vinegar...on the rug. I was not pleased at this.




I turned towards Ava, who by the deer-in-the-headlights look knew something bad had just happened, and I fired off.

"DAMMIT!! GIVE ME THAT DAMN BROOM!!!"

I grabbed the broom from her and I hurled it down the hallway where it crashed into the laundry room door. I looked down at Ava, probably looking monstrous, and terrified, she just ran into the living room.

I cleaned up the mess of broken glass, olives and vinegar for about 20 minutes and when I was cooled off I went in to see if Ava was okay. She was curled up on the couch with tears in her eyes and when she saw me she apologized immediately saying, "I'm sorry Dada, I'm so sorry...I'm sorry Dada."

This apology made me feel just above Adolf Hitler on the scale of morality.

I told her there was nothing to be sorry about and that it was my fault for breaking the glass. I told her I was sorry for yelling and sorry for cussing and sorry for throwing the broom across the house.

She hugged me and told me it was okay and then she kissed me on the cheek.

Thank God kids are so resilient. Ava got over it much faster than I did. I don't want to be that guy. I don't want to be that guy who blows up and cusses at a 2 year old. I don't want to be that guy who throws things. I guess I'm just confessing this publicly so you'll hold me to it...don't let me be that guy.

I want to be that guy I was on Sunday. That guy who builds amazing forts with his little girl and never wants to stop playing with her.