Figuring out as much about ourselves as possible is one of the most important things we can do in this life. If I don't know what my downfalls are, it's going to be pretty tough to work on them. If I don't know what my strengths are, it's going to be pretty tough to use them.

Have you ever met someone who just doesn't understand that you shouldn't talk 3 inches from someone's face?

Or have you ever met someone who doesn't believe that they have an amazing gift as an artist?

These are just a couple of examples, but the list goes on and on. One of my favorite steps in the process of figuring out who you are is to take a legitimate personality test. No...not the MySpace kind. The Myers-Briggs is the most well known and well respected of all these tests. The full version of the test is pretty large, but you can take a shorter version of it online at:

http://www.humanmetrics.com/cgi-win/JTypes2.asp

I urge you to take this test. It will probably take you around 5-10 minutes. Personally, I've learned that I am an ENTJ on the Myers-Briggs scale. This means I am an Extroverted, iNtuitive, Thinker, Judging. My personality type makes up around 5% of the population.

A few of my strengths are:

*Fearless // Thrill-Seeker
*I'm a leader
*Emotionally stable
*I finish most things I start

Some of my weaknesses are:

*I can be arrogant
*Perfectionist
*Critical
*Too opinionated

With this little bit of knowledge about who I am...I can begin to work on my weaknesses and put my strengths to good use. I no longer have to argue with the fact that I really am a leader because my personality type says so. The sad part is that I have to take a personality test to agree with something that God has told me all along, but for so many of us, we've believed the lies we've been told much more than the truth that's been spoken over us.

Once you see what your personality type is, do a google search on it and you'll find out all kinds of stuff. One really basic website with personality type descriptions is:

http://similarminds.com/jung/entj.html You can just click on your personality type at the top for a quick snapshot of your stuff. The important thing to keep in mind is that this is not an end-all, be-all test that defines who you are. This is just a place to start.

If you're truly interested in finding out more about your God-given gifts, talents, and strengths; I would recommend picking up this book: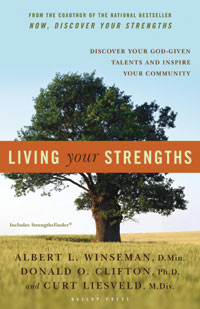 It can be found ----> Here.

Soooo....what's your personality type?